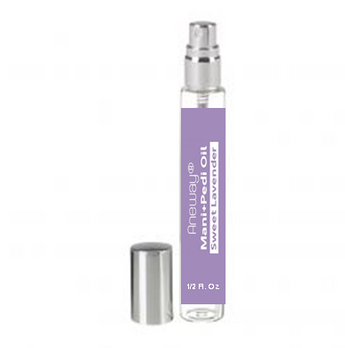 Mani+Pedi OIL *Sweet Lavender (Spray-On) 1/2 FL. OZ.
Aneway®
THE ULTIMATE INDULGENCE, WITHOUT THE CALORIES!
EO-INFUSED MANI+PEDI

™ OIL

 THAT NOURISHES WITHOUT UNNATURAL INGREDIENTS!
Edible/Lick-able & Kiss-able. Floral, herbaceous, fresh aroma. A must for relaxing....calming and to balance energy! Therapeutic Quality. Lavender upholds the spirit by bringing a sense of deep relaxation, and supporting compassion and tenderness towards others.
Our Mani+Pedi Oils are created with a harmonious blend of Sunflower Oil, Apricot Kernel Oil, Sweet Almond Oil and Pure essential oil French Lavender.
This exquisite formula allows fingers to glide over the skin and achieve deep penetration.
The properties found within these oils condition and soften skin while providing minerals, vitamins and proteins.
Our oils are made from natural, plant oils which absorb quickly into the skin. 
Mani+Pedi Oil can also be used as an after shower body oil or as a personal perfume.

Create your own signature scent.


Mix-able & Blend-able!


Spray-On, Roll-On, Brush-on or simply mix together to blend two or more layers of our Mani+Pedi™ Oil's to make your very own unique, personal scent!
Daily use of

 

Mani+Pedi

™ 

Oil after a

 

shower, bath or washing hands is recommended. 
Moisturizing, nourishing with quick absorption for cuticles, hands and feet!
Does not leave skin feeling greasy or sticky. 
Contains Natural Sunflower Oil, Apricot Kernel Oil, Sweet Almond Oil, vitamins and minerals with therapeutic quality pure essential oil Lavendula angustifolia -French Lavender.