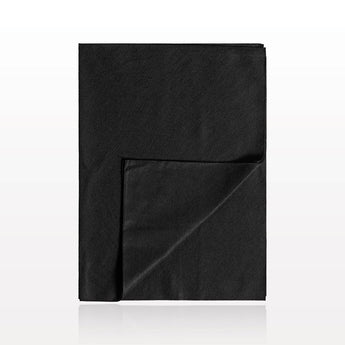 Lint Free Table Towels - NEVER FUZZY, JUST A TOUGH LI'L SOFTY!™
Aneway®
Regular price $9.95 $6.25 Sale
LI'L SOFTY™ 
LINT FREE TABLE TOWELS 
THE SOFTEST & MOST ABSORBENT PRO NAIL TOWEL IN THE INDUSTRY!



FACTORY DIRECT
LINT FREE TABLE TOWELS
BEST QUALITY & VALUE IN THE NAIL INDUSTRY! 
ONCE YOU USE THEM, YOU'LL NEVER GO BACK!
NEVER FUZZY, 
JUST A TOUGH LI'L SOFTY!™

ANEWAY®
LINT FREE PRO NAIL TABLE TOWEL 
APPROXIMATELY 8" X 10.5" SIZE
1-PLY - 50 CT. PACKAGE

NEW "BLACK" COLOR
The Softest & Most Absorbent Table Towel In The Nail  Industry!
Reusable + Disposable High-Performance Li'l Softy™ Lint Free Nail Table Towels.
This Li'l Softy™ Lint Free Pro "NAIL" Table Towel Does It All.
100% Lint Free
Wash, Rinse, Wring & Reuse!
Thin, Soft & Super Absorbent!
Made of 100% Plant Fibers (Bamboo)
Economical, 100% Biodegradable & Eco-Friendly
NEW Black Color! - Resistant to Chlorine Bleach, Acetone, Polish Remover, Alcohol Solution,  Monomer Liquid And More
Li'l Softy

™ 

Perfect To Wipe Your Acrylic And Gel Nail Brushes On! Never ANY lint!
Remove Polish
Great Nail Surface Cleaner - without leaving behind any fibers that can spoil your perfect nails. 
Never Fuzzy, Just A Tough Li'l Softy!™
A True Work Horse!
8" X 10.5", 1-Ply - 50 Ct. Package
NEW Black Color!