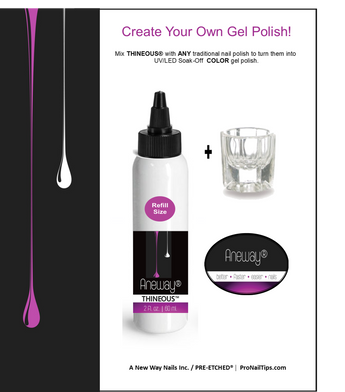 THINEOUS™ - Create Your Own Gel Polish! - THE BIG BOTTLE - 2 Fl. Oz.
Aneway®
Regular price $18.95 $16.95 Sale


THINEOUS™ 
The Thinnest Gel In The Nail Industry!
THE BIG BOTTLE!

Create Your Own Gel Polish!
Mix THINEOUS™ NAIL GEL with ANY traditional nail polish to turn them into 
UV/LED Soak-Off  COLOR gel polish.
Create the longest lasting, thinnest, most durable gel nail colors you've ever used.
No more costly gel polish colors to purchase, saving you so much money!
You can select from 100's of your favorite's by using nail polish colors that you already own or purchase more of the unique, traditional polish colors you love!
It's so fast and easy to create beautiful, flexible and the longest lasting gel nail color without using additional base coats, primers or separate top coats to seal, protect, bond and shine.
Guaranteed to produce superior results EVERY TIME!
Refill Size: 2 Fl. Oz., Opaque White Bottle. Easy twist open and close dispensing cap!
BONUS: Comes with an extra brush-on, opaque white, glass bottle for filling. Fill and use as a base and/or top coat.  A MiX It Up! Glass Dappen Dish and a Clean It Up! Nail Brush.