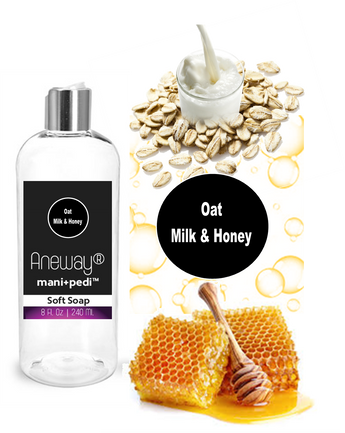 Aneway® Mani+Pedi™ CARE - Botanical Infused, Liquid Soft Soap - 8 Fl. Oz. Crystal Clear Bottle - Oat, Milk & Honey (FO) - Sulfate-Free
Aneway®
Regular price $7.95 $5.95 Sale

Botanical Formula

Oat, Milk & Honey . Foaming Bubbles

 Infused with Oat, Milk & Honey (FO) 
ALL NATURAL 
Clean & Pure


Plant-Based . Sulfate-Free Cleanser
Aneway® Mani+Pedi™ CARE Soft Soap is a mild, multiple application cleanser that can be used as a body wash, shampoo, facial cleanser, hand soap or bubble bath!

Creates a refreshing, foaming lather that leaves skin feeling pampered, clean and lightly moisturized. It delivers a soothing, delightful sensory experience.
Why Sulfate Free?

 


For years companies have been using sulfates as the surfactant (the "cleaning agent") ingredient in their products due to their ability to create a nice lather and a lot of bubbles. So why the need for a sulfate free formulation? Sulfates can be harsh to a certain degree for people with sensitive skin. Although sulfates are used safely and effectively in an abundance of products that we all use everyday, recent media attention encourages consumers to seek formulations with alternative ingredients. In today's world of many choices we as manufacturers and suppliers are obligated to satisfy consumer demands. Aneway® Mani+Pedi™ CARE Soft Soap is formulated using an alternative surfactant, resulting in a base that is sulfate-free, eco-friendly, and gentle, without sacrificing any benefits.

How Can It Get Any Better?

In the Aneway® tradition of making a good thing better, we have added, not just a few, but a complete blend of eight Organic Plant Extracts which offer a myriad of hair, skin and nail benefits!
Including Organic Salvia Officinails (Sage) Leaf, Organic Equisetum Arvense (Horse Tail), Organic Calendula Officinalic Flower, Organic Panax Ginseng Root, Organic Avena Sativa (Oats), Organic Citrus Medica Limonum Peel and Organic Aloe Barbadensis Leaf.

Other Benefits
We have included Pro Vitamin B-5 to improve moisture balance for hair and skin strength.


Ultra Mild
Outstanding Cleansing
Clean After-Feel
Soft & Silky
Sulfate-Free, Plant Based - just like our Aneway® Mani+Pedi™ OIL!
This versatile formula can be used as a shampoo, shower gel, face wash, hand soap, or bubble bath!

8 Fl. Oz. crystal clear, shatter-proof container, with an elegant & beautiful silver/white dispensing cap.

Oat, Milk & Honey is spicy and warm, with a hint of milk. Overall, a soothing warming scent. CAUTION: It smells like all you'll want to do is eat cookies. But please do not!