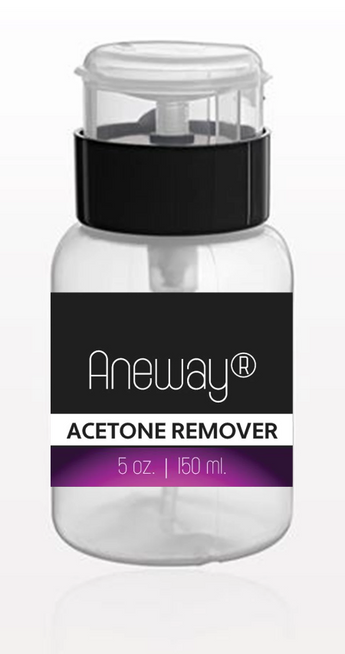 Aneway® Acetone Remover + One Touch Dispensing w/Locking Flip Top Snap Cap Container
Aneway®


ACETONE REMOVER
...Never Leaves A Chalky Residue After Soaking or Removing!
Aneway® Acetone Remover is the professional's number one choice for quality and convenience.
The quickest and most effective product to remove nail polish.
Safely dissolves nail adhesives, UV/LED gel polish, acrylic, Pro Nail Tips and all artificial nails.
Economical Value.
Convenient Desk Top/Travel Size.
5 oz. / 150 ml. Solution
One Touch Dispensing w/Locking Flip Top Snap Cap Container. 
Oatmeal, Milk and Honey Scent.
Overview
Locking Fluid Pump features no leakage when locked for travel. Lid locks and unlocks so you can pump clean fluid up from the bottle then lock it after use. Perfect for travel.
INGREDIENTS: 100% Pure Acetone, Vegetable Based Glycerin, Pure Essential Scented Oils and Distilled (H20) Water.
CAUTION: Keep away from and out of reach of children.